©Technisches Design/Stefan Teubner
To stayfit with the help of health apps is a growing trend more than ever since the pandemic. According to Statista, 38% of Germans already use apps for exercise at home (2021). However, one fundamental element is missing from these apps: the haptic guidance of a trainer or therapist during the execercise. Especially in physiotherapy, this element is essential for the correct execution of the exercise and a sustainable recovery of the patient.
Veiio aims to close this gap with intelligent clothing that uses vibrotactile feedback to help people perform physiotherapy exercises. This should not only increase the success of therapy (for back pain, among others), but also make therapy accessible to patients wherever they are. Equipped with integrated sensors and actuators, the veiio shirt analyzes the patient's movements and provides real-time vibrotactile feedback. This allows 2 out of 3 physiotherapy treatments to take place remotely at home. Thus, our assistant consisting of an app and a shirt can save precious time for physiotherapists and patients. With the help of the collected data, therapy measures can be individually tailored to the patient and can also be used for the prevention of long-term diseases.  Throughout the development process, data security is a top priority and is implemented using privacy by design methods.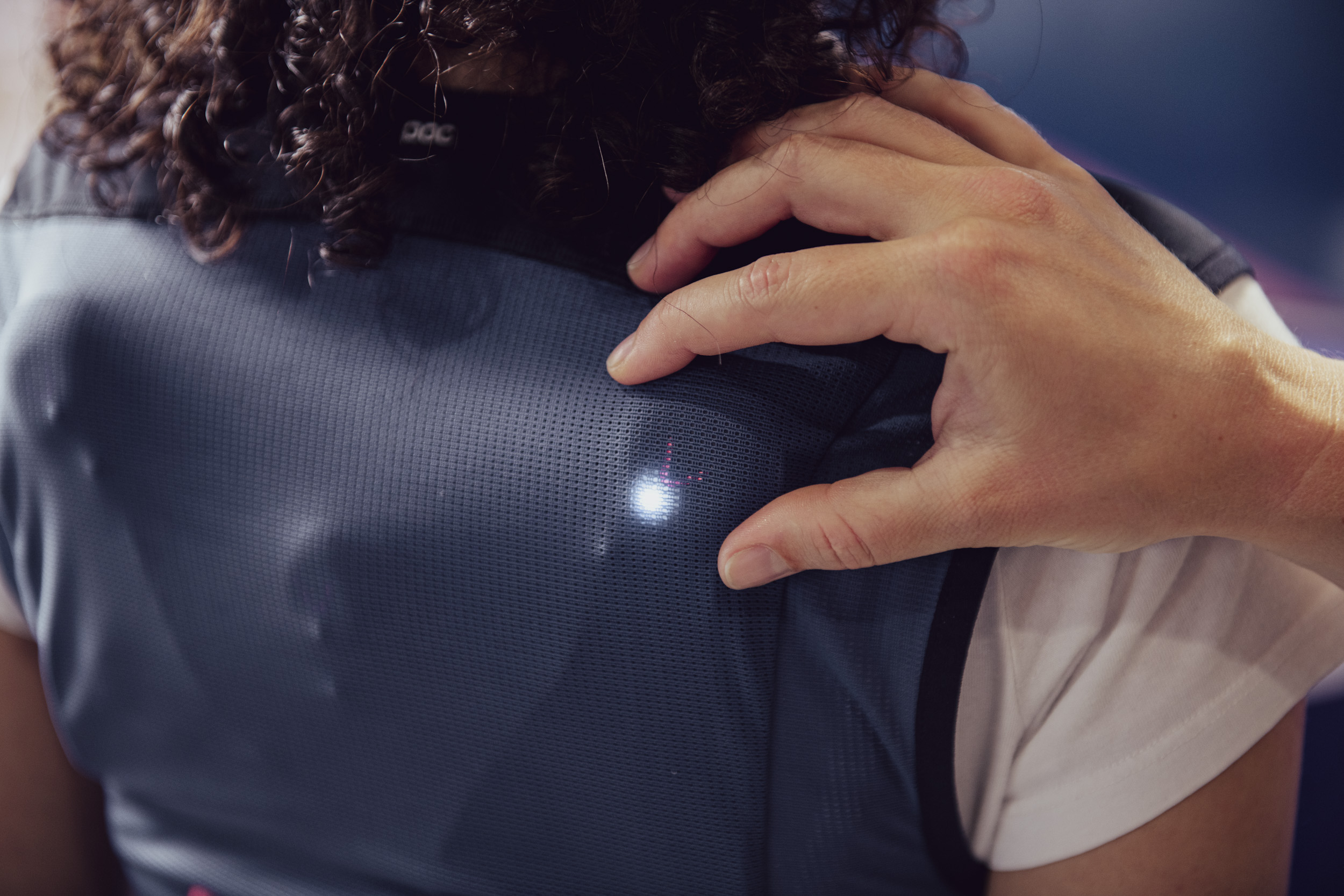 ©6G-life/TU Dresden/TU München/Jörg Simanowski
From the beginning, physiotherapists are included in our development through guided interviews and feedback discussions. In this way, we identify urgent problems the therapists experience in their daily work and where they need support through technology. At 6G-life hub, we investigate telemedical scenarios which allow the patient to meet his/her therpists at their living room remotely for future applications. In these use cases, the human-machine interaction is a particularly crucial factor. Therefore we collaborate with 6G researchers on Social Affective Touch. Builiding trust and a social connection in the digital world will be the key to adopt our technology. Integrating and processing motion capture data through a body hub will be a second topic we are parterning up with the 6G-lfe team providing real world testbeds. The project thus combines the latest research findings from medicine, psychology, health care and technology and aims to transfer this valuable know-how to society in an application-oriented manner. With our current  prototype we can apply vibrotactile feedback on the entire upper body. With that, we test our solution with physiotherapists at the University Hospital.
The veiio team around Lisa-Marie Lüneburg and Thomas Müller is now steadily growing (stay tuned!) and empowered by the 6G-life Hub. Prof. Frank Fitzek (Head of the Deutsche Telekom Chair of Communication Networks and the above mentioned clusters, TUD) and Prof. Jens Krzywinski (Chair of Technical Design, TUD) are mentors of the project and have themselves many years of start-up experience.
If you want to try out the veiio shirt, you are welcome to drop by at the output on 7.7. (https://output-dd.de/blog/project-post/veiio-digitising-the-power-of-touch/). Our contact information can be found on the project website https://veiio.de/ .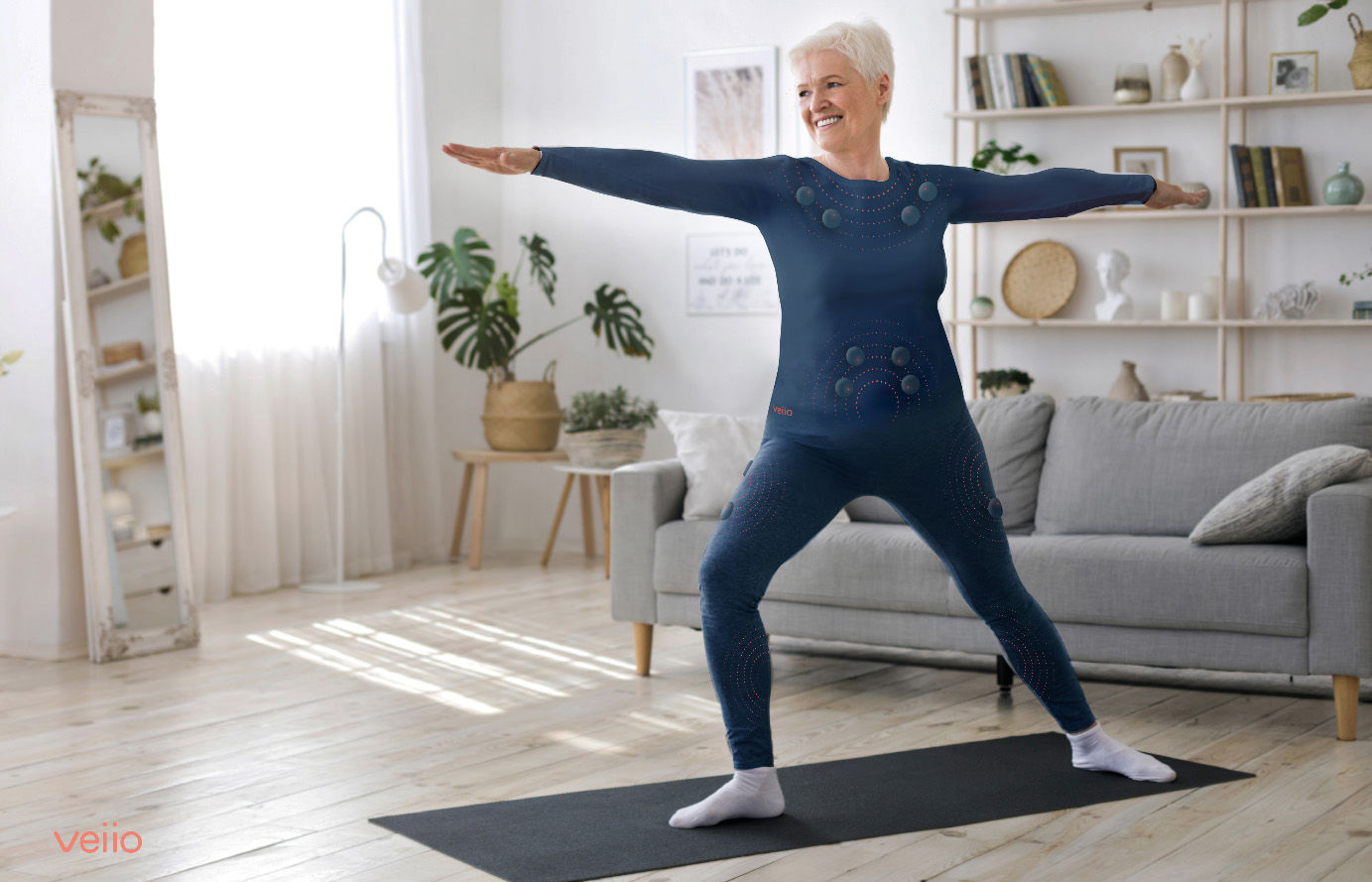 ©Technisches Design/Lisa-Marie Lüneburg